Whether you're already familiar with jointers or just getting into the world of woodworking, you might be considering the Cutech jointer as an addition to your woodshop. There are tons of jointer reviews out there, and we're guessing that you don't have time to read then all. That's why we've created the ultimate Cutech jointer review. Not only will you find helpful tips for choosing a jointer, you will find plenty of pros and cons to help you determine whether this is the best benchtop jointer for your shop. Let's get started.
What is a Jointer vs. A Planer?
If you're new to woodworking, you might find yourself wondering, "What does a jointer do?" You might also wonder about the differences between a jointer and a planer. Feel free to skip this part if you've got lots of experience!
A planer is used to create even pieces of wood with a specific thickness. This tool is perfect for getting all the boards used for a project to the perfect size, so the face of a project such as a table or cabinet is smooth and even.
A jointer is used to create flat surfaces on a plank's edges or faces. This tool does not create actual joints in the wood; instead, it ensures that there are no gaps between planks once they have been fitted together. Why is it called a jointer? We're not 100 percent sure, but it's likely that this tool got its name from the jointer plane, which is an old-fashioned hand-held plane that was (and still is, in some places) used for the same purpose, namely creating smooth boards that fit together seamlessly.
Can you use a planer as a jointer?
A planer can be used as a jointer, but the process can be a bit tricky. There are quite a few videos that show how to use or even rig a DIY planning jig, which is essential in getting all sides of the wood perfectly flat. You can substitute a jointer with a planer in a pinch, but if you plan to do lots of projects that call for a jointer, then you're better off using the right tool for the job. You'll get better results and you're far less likely to find yourself battling frustration at every turn.
Do I need a planer and a jointer?
It's a good idea to have both. Planers aren't designed to produce flat, square edges, so a jointer is a must-have if you're planning to build cabinetry or other projects that call for precision. Most of the time, hand-milling lumber calls for using the jointer first. This creates a single, perfectly flat side, and a single, perfectly square edge. It's worth noting that you should joint the face before the edge, since the edge will only be square and flat if the face is flat. Next, it's the planer's turn. By planning the opposite face, you get an even, flat board with two parallel faces. Once the wood is at the correct thickness, return to the jointer and finish the other side. You cannot square wood's edges with a planer. There are combination jointer/planer tools available, however they have their own shortcomings.
Types of Jointers
Which jointer should I choose? It all depends on what you want, how much space you have, and how often you plan to use it. There are a few types of jointers available. Here's a quick overview.
Closed stand jointers are available in 6, 8, 12, and 16 inch sizes. The enclosed base adds weight and stability while protecting the motor from dust.
Open stand jointers leave the motor exposed. They're lighter and easier to transport than closed stand jointers, but they tend to be quite a bit louder.
Benchtop jointers are smaller than their stand-type cousins. They're designed to fit on top of a workbench, and most have enclosed bases that help keep the motor clean. Because they are space-conscious and portable, they're a favorite with hobbyists and others who have small woodworking shops. The Cutech jointer fits into this category.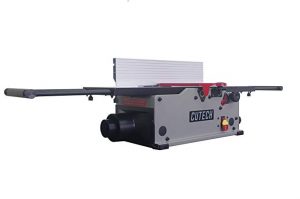 Tips for Choosing the Best Benchtop Jointer
When selecting a benchtop jointer, it's a great idea to spend some time considering a variety of factors ranging from price to the availability of spare parts. Cutech jointers excel in both of these categories, but just like any other product on the market, this brand is not going to be the ideal solution for every user. Here are some things to consider when deciding "What is the best jointer to buy?"
Setup – Unless you have a dedicated spot where you'll be keeping your benchtop jointer, you'll have to set it up each time you use it. Ensure that there are no complaints about the setup process or the owner's manual. Cutech jointers come with complete instructions, and are easy to set up. The level adjustable beds are simple to operate, as is the fence. This features a 90 to 135 degree tilt, which is a nice touch.
Size – A benchtop jointer is best for working with small to medium-sized stock. Most companies offer 6" benchtop jointers, and some offer 8" benchtop jointers. Cutech jointers are available in both 6 and 8 inch sizes. Extendable tables make it easy to work with longer boards.
Power – If you're planning to work with anything other than pine, you'll need plenty of power. Cutech delivers here. Both 8" and 6" Cutech jointers feature 10 amp, 120V motors.
Weight – When it comes to power tools, you want plenty of durability. The problem with portable units is that in their desire to create a unit that's light enough to move without much difficulty, some strength is often sacrificed. At a little over 40 pounds, the Cutech benchtop joiner gets good marks for both weight and strength. It's clear that the manufacturer put plenty of thought into its design.
Ease of Maintenance – Is it difficult to disassemble the unit for cleaning? Does it come with a dust collection bag, or is it possible to use it with a vac cleaner? Are spare parts available, and are they easy to obtain? Cutech jointers get mixed reviews here. They don't come with their own dust collection bags, however it's possible to add a vac cleaner without difficulty. The manufacturer offers spare parts at fair prices, and it's easy to find exactly what you need online.
Blades – Quality blades are essential. Many bench jointers fail miserably when it comes to blade strength, but Cutech jointers are able to hold their own, although they can struggle with very hard woods like maple. The Cutech jointer features a 6-inch spiral blade with cutting inserts that engage the wood two at a time. The beauty of this design is that you can rotate the blade and use a fresh one if it's worn or damaged, and you can replace old, nicked, or dull inserts with brand-new ones. This is by far one of the most appealing parts of Cutech's jointer design. Some other brands offer similar blade features, however most of these come at a higher price point.
Cost – Expect to pay well under $1000 for a good benchtop jointer. Be suspicious of anything that's sold for under about $250 brand-new. Cutech jointer prices are at the middle range depending on the model and any accessories available. The Cutech 8" Benchtop Jointer w/ extensions is the higher priced of the two models available.
Cutech Jointers: Pros and Cons
Just like every other product available, Cutech jointers come with positive and negative points to keep in mind.
Pros
Good quality blades, spiral design is far more effective than straight blade design
Moderate price
Creates smooth surfaces
Performs well even with dirty live edges
Built-in 4" dust collection port with a 2-1/2" adapter, easy to set up with shop vac
Adjustable fence
Plenty of power
Available directly from the manufacturer or from Amazon
Cutech jointer replacement parts are easy to find online
Many reports of good customer service
Cons
Fence may feel unstable when working with long boards; some users opt to create extensions for greater stability. It's worth noting that this seems to be a universal issue with benchtop jointers in the low- to mid- price range
Slows down a bit on very hard woods like maple
Louder than some competitors
No bag; it's a good idea to set up a shop vac with benchtop jointers such as the Cutech
The Takeaway: Is Cutech the Best Jointer for the Money?
For the most part, Cutech jointers get positive reviews from hobbyists and others who want a good tool at a moderate cost. This brand is often compared to higher-priced units like Grizzly, despite a known issue with the fence. In review after review, Cutech jointers get high marks for durability, power, portability, and efficiency. At just a slightly higher cost than Porter Cable jointers, Cutech jointers are the clear leader in this category, and a good addition to any small woodshop.
There are two models to choose from:
Cutech 40180HC-CT 8" Bench Top Spiral Cutterhead Jointer with Carbide Tips
Cutech 40160H-CT 6" Bench Top Spiral Cutterhead Jointer