Plywood slats are a convenient option for building or updating a platform bed. They are also ideal for building, repairing, and updating boats, building a glider for your lawn or porch, and many other applications. Typically sold in sets rather than singly, plywood slats are available in a variety of sizes to suit your needs. Here, we'll take a look at some of the most popular ways to use this attractive wood product.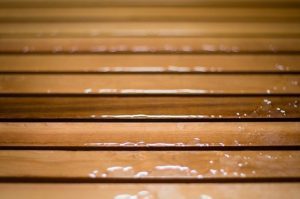 Slats for a Platform Bed
If you'd like to make a bed more comfortable and get rid of an old or unattractive box spring, a platform bed with plywood slats is an excellent option. Slats made with solid wood are often too flexible, making them less supportive and decreasing your comfort level. Plywood slats allow for better air circulation than solid plywood sheets, and they're much easier to work with.
If you're making a custom bed frame or refurbishing an antique store find, plywood slats can help you to create a sturdy platform bed that will last for years. Typically pre-sanded for your convenience, they are very easy to install with nails or screws, and in many cases, they can simply be laid across the bedframe. When building, consider adding a center support to give the finished bed better stability, particularly if the bed is larger than twin size.
Slats for Boats
When choosing plywood slats for boats, consider purchasing a quality marine plywood product. Marine plywood slats provide the protection your boat needs, preventing damaging, dangerous exposure to water. In many cases, decks and other elements constructed with plywood slats give your boat added value. If your boat is an inexpensive one that you use rarely, and so long as it is stored in a dry area rather then tied up at a dock, you may be able to use exterior plywood slats instead. When using plywood slats for boats, be sure to check with the vendor or manufacturer to ensure that you use the correct preservatives. Polyester resin, epoxy, fiberglass, or a combination of preservatives will extend the life of your plywood in some cases, preventing rot. Selecting the right product for the job, taking your time, and measuring carefully are the keys to creating a handsome finished product that offers good performance.
Glider Slats
A well-made glider is more than just a place to sit. It offers comfort and durability while adding a wonderful finishing touch to your porch, patio, or lawn. Whether you're building a new glider or repairing a used one, you'll find that plywood slats offer the strength and durability to stand up to frequent use. Be sure to give your plywood glider slats at least one coat of a protective waterproof finish before installing them on the glider frame. Once you've attached them using screws or other appropriate fasteners, apply one or two more coats of finish, following the manufacturer's instructions carefully.
Plywood slats can be used to create beautiful wood floors, attractive custom paneling for walls, Adirondack chairs for your porch, special deck chairs to place around your swimming pool, and many other projects. Their beauty and durability, paired with their ease of use make them a fantastic choice for a variety of woodworking applications.