Usually when attaching table tops, there are going to be a couple of recurrent issues to resolve. First, you will need to make an attachment without piercing the top surface the table top. Second, you will need a firm mechanical connection from the skirt or frame to the legs, so that the table is strong and stable. There are various pieces of hardware available for exactly this purpose. Made of metal, they allow for table legs, or a frame to which the legs are attached, to be screwed or glued to the under surface of the table top. Table legs can either be connected individually to the table top or, in most cases, to a frame that in turn will be connected to the table top. Table legs that attach directly to a table top are designed and manufactured for that purpose, usually with metal brackets built in. For metal legs, bolt or screw holes will be available for attachment.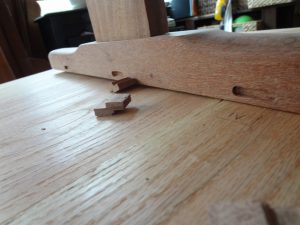 In the case of a table legs that are connected with a wood frame or skirt, the frame, which acts as a brace keeping the legs in place and straight, can be used to attach the legs directly to the underside of the table top – usually with blocking, steel brackets or occasionally by angling the screws in through the sides of the wood frame and into the underside of the table top. For best results, use a pocket-hole screw jig. In cases where the table top is too thin to accept screws, plywood plates can be glued in place to provide sufficient screw depth.
In most cases, all metal legs, as mentioned, can be attached directly to the table top itself. Again, if the table top is too thin to accept screws of sufficient length, it may be necessary to add plywood plates or, in some cases, a single sheet glued to the underside of the table before attaching the legs with screws. However, usually there will be framing under the table which will both give the table top added strength and rigidity and also allow the legs to be connected in a firm and structurally solid fashion (blocking, glue and screws). It should be noted that whenever using metal hardware for wood-to-wood connections, for instance, a nut and bolts holding a table leg made of wood to a wood table bottom frame or skirt, there will be differences in the expansion and contraction rates of the wood and metal parts, which will always create problems over time. The solution is to tighten connections whenever needed or, in some cases, to use spring type washers on the bolts, to take up slack in the joint.