Often used to install subflooring over framing joists, tongue and groove plywood creates a stable base and is surprisingly easy to install. You'll find that there are many types of tongue and groove plywood available, including those manufactured specifically for decking, subfloor, and siding projects.
Types of Tongue and Groove Plywood
First conceived in the 17th century, tongue and groove is a format that allows pieces of construction material to be joined without fasteners. It was first used in creating flooring, and is now available in a wide variety of different formats including all sorts of plywood designed for making various building projects more attractive as well as better functioning.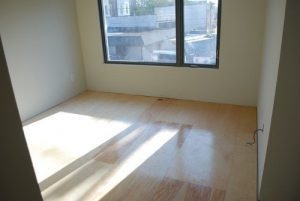 Depending on the supplier, you're likely to be able to find just about any plywood milled with tongue and groove. Pressure treated and non-pressure treated options are available, as are a variety of veneer faces, sizes, and thicknesses. In the event that you like the idea of using a certain type of plywood but can't find it milled with tongue and groove, check to see whether a local mill has the ability to handle the task of cutting tongue and groove in plywood you have purchased somewhere else.
Benefits
Plywood milled to create tongue and groove edges costs a little more than standard plywood panels, but there are some great benefits that come with spending just a bit more upfront. First, you are likely to save quite a bit of time as aligning your panels will be simple. Second, and more importantly, you'll get nice, tight seams that create a superior finished project that stands up to wear and tear. Floors built with tongue and groove plywood are less likely to squeak, even recommended by U.S. Department of Housing and Urban Development sound transmission class guidance, and when properly constructed, are perfectly level.
Using tongue and groove plywood for marine applications as well as for exterior applications such as siding helps to keep moisture out, particularly when you use the right kind of finish and pay extra attention to the edges. Pressure-treated tongue and groove plywood offers even more protection, and products formulated with waterproof glue are also highly desirable for use in projects that will be exposed to the elements or subject to moisture exposure such as that which is common in high-humidity areas.
Professional Recommendations for Installing
Tongue and groove plywood comes in a variety of grades and thicknesses as well as at different price points, and it's available at most venues that specialize in building supplies. Ensure that you purchase plywood that's thick enough to stand up to the demands that will be placed on it, and always install your plywood good side up. Check to see whether glue is recommended, and always follow the manufacturer's instructions when using glue to create tighter bonds.
Although tongue and groove plywood installation is a fairly foolproof process that even someone who's fairly new to the world of DIY can do, be sure that you have a complete plan in place before beginning your project. You'll need a few special tools to install this plywood for flooring, including a stout rubber mallet for tapping the panels together to ensure that they are completely joined. Finally, if your budget allows, spend a little more on high-quality tongue and groove plywood for easier installation and great, long-lasting results.