ApplePly is a product which causes some confusion amongst the woodworking community, causing some people to view it as either a misnomer or a joke. The name seems to imply that it is a plywood product made from the wood of the apple tree, but that's not what it is. Although it is a hardwood plywood product, the core veneers are made of birch, much like Baltic birch plywood, rather than apple. It can be considered to be the American equivalent of Baltic birch plywood, which comes from the nations surrounding the Baltic Sea.
The name ApplePly is a trade name, as well as a bit of a marketing ploy, with the first and biggest manufacturer of ApplePly being in the state of Oregon, which is known for apples. The regional identification of the product parallels with the idea of something being as "American as apple pie," helping to identify ApplePly as a purely American product.
Nevertheless, ApplePly and Baltic Birch have much in common and are used in much the same way. Birch is a fine-grained hardwood with a straight grain. This makes for a high quality plywood core, with very few voids and a clean end grain. When compared to softwood plywood, the cut edge of ApplePly is much cleaner and more attractive. Whereas the edge of softwood plywood would have to be filled to make a smooth surface, filling in the edge grain, the edge of ApplePly can be sanded and finished, providing an attractive, "industrial" finish. The edge appearance is one of the most popular characteristics of ApplePly and is often the reason why it is chosen for a particular project.
Unlike other plywood products, the core veneers of ApplePly are only 1/16" thick, making for a high number of thick core veneers. This is a structural advantage, helping with the panel's stability and flatness. But it also adds to the aesthetic appeal of the wood, providing the signature edge banding. It is made without any urea-formaldehyde adhesives, eliminating the concern with formaldehyde outgassing from the plywood. This is a positive selling point for children's furniture made from ApplePly.
Like Baltic Birch, ApplePly was first used for architectural and industrial applications, or in applications where an industrial style was appropriate. This included such things as workbenches, reception desks and store fixtures, especially for stores selling upscale casual clothing. It is available in thicknesses ranging from ¼" up to 1-1/2", in 1/8" increments up to 3/4" and ¼" increments thereafter.
In more recent times, ApplePly has gained prominence with hobbyists and woodworkers, especially for making furniture with the same industrial style. The attractive edges, with a high color contrast between the long and end grain, but with few voids gives an attractive look, while saving labor on making projects. ApplePly is a favorite for building cabinets and benches in the workshop, as well as children's and casual furniture.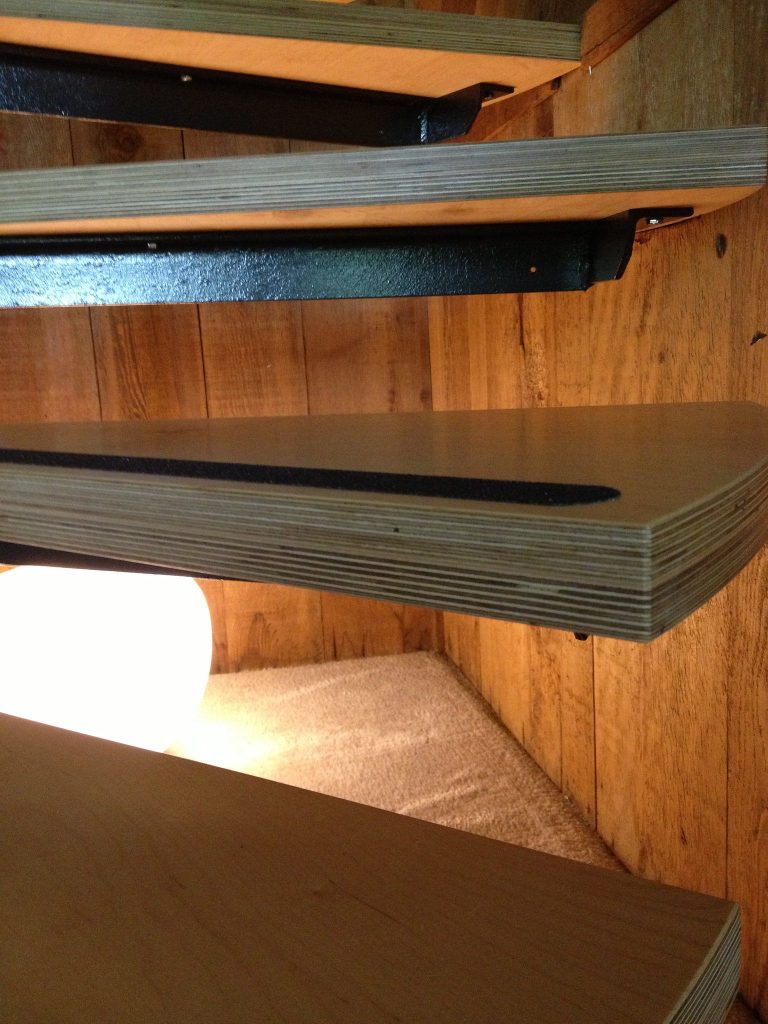 One of the real benefits of ApplePly is that birch is a very stable wood, although not a particularly hard one for a hardwood. The Janka value of yellow birch is 950 lbf, which puts it just below ash. By comparison, sugar maple has a Janka value of 1,320 lbf and red oak has one of 1,570 lbf. So ApplePly isn't highly resistant to dents and scratches, unless it has a surface veneer of a denser hardwood. Any cross-laid plywood is stable to start with; making it out of a stable wood stock increases the dimensional stability of the finished project. ApplePly comes from the mill extremely flat, partially because it is virtually void-free. There is very little warping with ApplePly as well.
While the core veneer layers of ApplePly are made of birch, the face and reverse veneers often aren't. Rather, ApplePly sheets are faced with a variety of different hardwoods, including: cherry, maple, walnut, oak and teak. Most of these are plain sliced, rather than radially sliced, providing the same grain pattern that would appear on solid wood boards.
The one drawback to ApplePly is finding it to purchase. Purchases of ApplePly online require that the customer pay the shipping. Unless a lot of plywood is being purchased at the same time, this makes the cost per sheet rather high. However, there is a growing network of distributors who are selling ApplePly, mostly lumberyards which specialize in hardwood boards and plywood. A map of these dealers can be found on the States Industries website. States Industries is the inventor of ApplePly. It is usually priced on the bottom end of the pricing range for hardwood plywood panels.