Melamine plywood is a relative newcomer to the plywood family. Made of particle board, with a melamine coating on the face side, melamine plywood is used extensively in the manufacture of kitchen and bath cabinets, as well as furniture where a solid white surface is desired, rather than wood grain.
Melamine is an organic compound which most people think of as an inexpensive plastic. We commonly see it being used for the manufacture of tough, lower cost plates used in commercial and industrial kitchens. While melamine is tough and break-resistant, it can crack and the edges can chip.
When turned into melamine plywood, the melamine provides a waterproof surface, which can be easily cleaned and protects the particle board core from water damage and staining. However, melamine panels are not fully waterproof, as only the surface is covered with the melamine. Even when iron-on melamine edging is applied, it is possible for water to seep in at the corners and through the back, causing the particle board to delaminate. Once the process is started, it accelerates, as the board swells and more end grain becomes exposed.
Melamine plywood panels can be thought of as similar to the panels used in the manufacture of inexpensive furniture of the kind that IKEA makes. However, the melamine coating is more durable than the vinyl coating used on those panels. Melamine is made of the same rosin as Formica and other laminates used on kitchen countertops. It is considerably more scratch, heat and wear resistant than that vinyl coating.
Melamine versus Plywood
Kitchen cabinets and furniture are both made out of melamine plywood and hardwood plywood. Both materials have their proponents, mostly the companies which choose to use them. Yet the two materials generally provide quite different visual finishes, which become the major deciding point when choosing between the two.
Melamine plywood is not only limited to white, although that is the most common color available when purchasing it in the lumberyard. However, major cabinet manufacturers are able to buy it in such quantity that they are able to get custom orders of any color they desire. The most common color for melamine plywood cabinets, other than white, is black.
Even though melamine plywood is available with a printed hardwood grain, hardwood plywood is preferred in high-grade cabinet construction. While hardwood plywood is considerably more expensive than melamine plywood, the visual difference between the two is considerable. No artificial plywood grain looks quite like the real thing and people who want the beauty of wood can quickly notice the difference.
Of the two, plywood is both lighter and stronger against breakage. The manner in which plywood is manufactured, with wood veneers laid perpendicular to each other, cannot be matched by the wood chips and sawdust used in the manufacture of particleboard. Plywood is also easier to fasten to, as the wood grain holds both nails and threaded fasteners well.
Both materials are likely to include some formaldehyde, as it is used in the adhesives that are part of the manufacture of both plywood products. But the formaldehyde will flash off in a short amount of time, limiting any risk of contact, unless the adhesives begin to dissolve.
Melamine cabinets and furniture are generally less costly than those made of hardwood plywood. For modern style "European" cabinets, melamine provides a very smooth surface, where no grain will be showing through. That is always a possibility when working with hardwood plywood. However, of the two, hardwood plywood is more resistant to moist, even though the melamine surface is waterproof.
Working with Melamine
Melamine plywood is available from lumberyards and building material centers for the do-it-yourselfer. It is difficult to move, due to the weight, and requires special techniques when milling, in order to avoid chipping the edges. Nevertheless, the lower cost and especially the finished appearance make it a great product to use for certain applications.
When cutting melamine, care must be taken to avoid chipping the edges. Furniture and cabinet manufacturers normally cut it with a CNC router to avoid this. We can take a page from their book, using a plunge router with a narrow straight bit for cutting. Used in conjunction with a straight edge, this will provide a very clean cut, albeit with a wider "saw kerf." It is a good idea to score the melamine coating with a utility knife, cutting through it, before any cutting of the particleboard beneath is done.
Melamine plywood can also be cut with a circular saw or table saw. As with cutting it with a router, it is a good idea to score through the melamine coating itself, before cutting. A sharp fine-toothed carbide blade should be used; something with 80 or more teeth for a handheld circular saw or 100 teeth for a table saw.
Drilling hole in melamine can be problematic as well, as a normal drill bit will tend to chip the edges of the holes. The plunge router can solve this problem as well, making holes into or through the melamine. The only problem is finding straight carbide router bits of the size needed. The router can also be used with a chamfer bit to countersink those holes, if screw are being used for fastening the panels.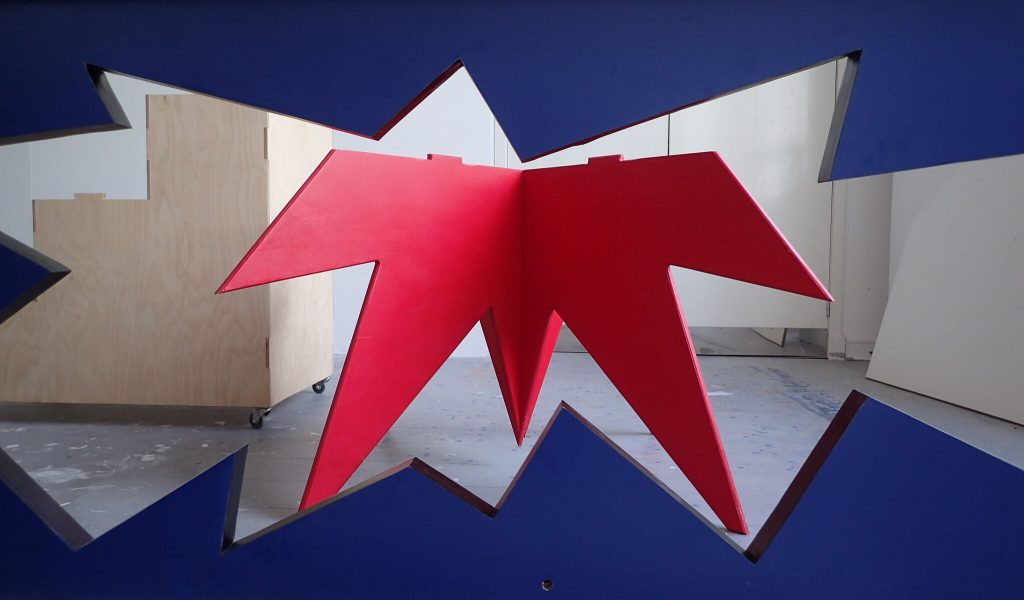 Fasteners and Melamine
Because melamine is a particle board, it doesn't provide as much hold with either nails or screw as hardwood plywood does. Brad nails from a pneumatic nailer should not be used on melamine plywood, except in non-structural places, such as nailing the back panel onto a cabinet while the glue dries. Panels connected together with wood glue and nails cannot be counted on to hold together, as the particular board core does not provide enough of a grip on the nails.
Screw can be used with melamine plywood, as long as the proper precautions are taken. Coarse-thread screws, such as coarse-threaded drywall screws are best. A clearance hole should be drilled through the panel being fastened, with a smaller pilot hole in the panel it is being fastened to. If the screw will be going into the edge of a piece of melamine plywood, it should be kept at least 2-1/2" from the corner. These screw holes should be countersunk or a face washer should be used with the screw.
For a stronger connection, the types of cam fasteners which have become popular for use in IKEA and other similarly made furniture, which is assembled in the home, is best. These fasteners have been developed especially for use in particle board, making them ideal for use with melamine plywood. While these types of connectors are of a higher cost, the longer life they give the finished product make them worth investing in.