Home maintenance can be challenging, especially when buying a used home from someone who hasn't paid as good attention to their home as they should have. One of the common problems that home buyers encounter is that their new home's siding is not in the best of shape. The normal solution to this problem is to put new siding on the home, over the existing. Either aluminum or vinyl siding is used, both of which are considerably cheaper than tearing off the existing siding and putting on new.
It used to be that vinyl siding was less costly than aluminum, but that has changed through the years. This change has mostly been due to improvements in vinyl siding, while aluminum siding has remained more or less stagnant. Today, the cost differential between the two is minimal, with vinyl siding having a better life expectancy than aluminum, holding its color better. The exception to this is vinyl-clad aluminum siding, which combines the benefits of both, but costs more than either.
A more recent development in vinyl siding is vinyl shake siding. This is vinyl siding which has been molded to look as if cedar shakes have been installed as siding and then stained with an oil-based exterior house stain. While cedar shakes are not a common siding for homes, there are cases where they are used for the design appeal. In the case of vinyl shake siding, the shake pattern is better looking than simple vinyl siding, which is designed to look like clapboard.
This siding is also thicker than standard vinyl siding. Along with that is the added strength that comes from the surface going in and out more, putting material off the plane of the beam, so to say. Together, these improvements give vinyl shake siding a longer life expectancy – as much as 50 years, without any need for repainting. The siding is also much less prone to dents and breakage, due to the material and geometry of the siding.
Pricing for having a home's exterior refinished with vinyl shake siding vary considerably, with a range from $3,500 to over $20,000. How big the home is plays a factor, whether or not it is one story or two, and how complex the exterior is. A home which is a simple box is much less labor intensive, than one where the walls have a lot of protrusions and indentations in the layout. Regardless, the homeowner can save about 50% in the overall cost by doing the job themselves.
Finding the necessary materials for residing a home with vinyl shake siding isn't difficult. Most home improvement centers and lumber yards will carry one or two lines of siding; however, it will have to be custom ordered. This is an advantage, as the material will be delivered directly to the home, saving the problem of transporting it.
Compared to other systems for covering a home, any vinyl siding is considerably easier. The system is designed so that it works together, with the pieces snapping together. While some fasteners are still required, this snap-together feature makes it much easier to fasten to the home. Channels are installed on both the inside and outside corner, eliminating any problem with inaccurate cutting and making the corners always look neat and clean. Cutting doesn't require special tooling and can be done with common tin snips. Nevertheless, it is worth investing in a pneumatic nailer, as that will make the job go faster and easier.
There are dozens of styles and colors of vinyl shake siding available, manufactured by a variety of companies. The bare material itself costs somewhere around $300 per 100 sq. ft. or "square" (as in roofing) and weighs about 35 pounds. The total material cost for siding a home can easily be calculated by determining the square footage of the home's exterior and then multiplying it by the price per square. Some extra material should be ordered and there will also be a need to buy trim strips, fascia and material to cover the soffits.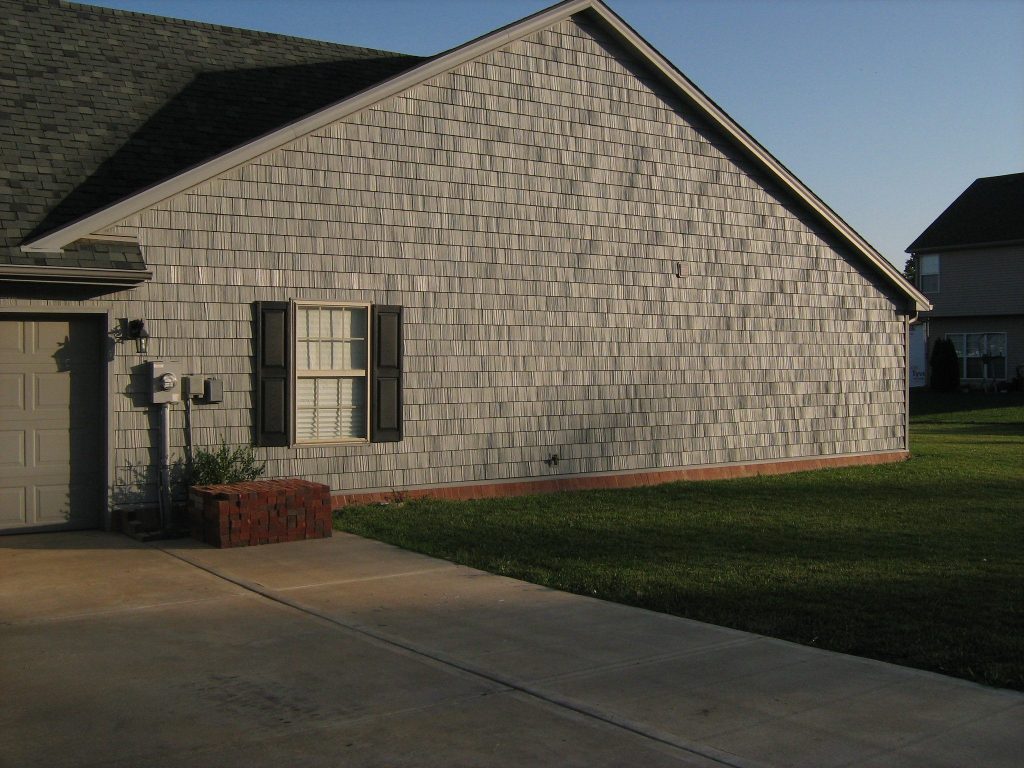 Insulated vinyl siding is slightly more expensive, but can be worth the investment, especially if the home is not well insulated. The added layer of rigid foam insulation can save an average of 14.2% off of existing heating and cooling bills.
One of the true advantages of siding a home with vinyl shake siding is the resale value. To start with, a home which has been recently resided will sell easier and for a higher price than one which needs a siding job. But the surprising part is that the average increase in home value is 76.7%, based upon the cost of having the job professionally contracted. If the homeowner does the job themselves, they can actually make money by re-siding the home before selling it.
That raises the question of what would be the best color if the home is to be resold. That depends in part on the area, so it is always best to check out the colors of other homes in the neighborhood and the city before making a decision. Different regions of the country tend to have predominant home colors which are popular. But in general, some of the best colors are: off-white, light grey, blue-grey, taupe, light blue, yellow and putty. Homes in these colors tend to sell faster than others. Keep in mind that if a home is small, siding it in a darker color can give it the appearance of being larger.