New furniture is expensive! If you're looking for an easy way to fix sagging couch cushions, you'll be thrilled to discover that you can easily bring your favorite lounge spot back to life with a simple piece of plywood. Not just any plywood will do the trick, and you'll want to take some care with measurements and positioning.
Choosing the Best Plywood for Sofa Support
Some sources mention that it's OK to use MDF or particle board instead of plywood under couch cushions, but you should be aware that these options are prone to breaking over time, leaving your sofa in a state of disrepair once more. Choosing the right type of plywood makes a difference, particularly if you want your repair to last longer than a few months.
A quick trip to the local building supplies store will reveal that there are lots of different kinds of plywood to choose from. Avoid the thin varieties. Instead, choose a piece that's at least ½ inch thick. A ¾ inch thick piece of plywood provides firmer support and stands up to the demands of frequent use.
How to Measure for the Plywood Couch Support
Start by removing all of the cushions from your couch and setting them aside. Measure the inner section of the couch's frame.
Measure lengthwise from the base of one arm to the base of the other.
Measure from back to front, only taking the frame portion into account. You don't want your plywood to sit on top of the upholstery in front, where it will show. This can accelerate the rate of wear, and it can be uncomfortable, too.
If you have a very long couch or a sectional, you may have to cut multiple pieces of plywood. You don't want these to overlap, but you do need to ensure that they are supported. Your couch frame should have some central supports. Locate these and measure carefully so the ends of the plywood pieces meet in the middle of the support.
Cutting Plywood to Fix Sagging Couch Cushions
Plywood is usually sold in sheets measuring 8 feet long by 4 feet wide. Mark the plywood and double-check to ensure that your measurements are correct. Use a table saw or circular saw to cut your plywood if possible.
If you don't have access to a power saw, consider borrowing or renting one as it can be very difficult to make long, accurate cuts in plywood with a hand saw. Your home improvement store may be able to make the cuts for you as well. Some stores offer this service free of charge; others charge a very small fee.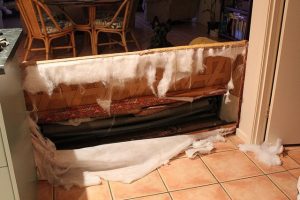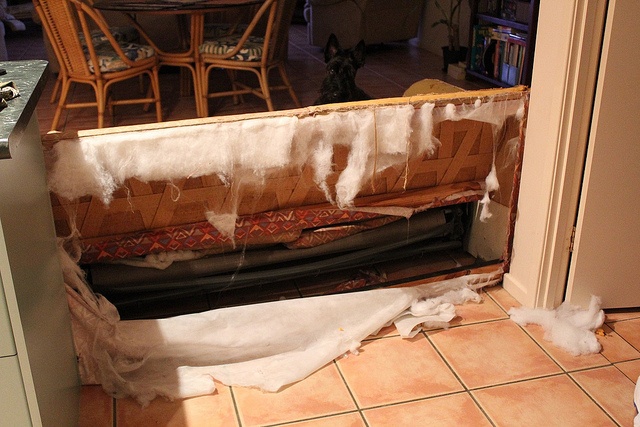 Setting the Plywood in Place
Once your plywood has been cut, slide it into place. Be sure to push it all the way back so it rests on the frame. Double-check to ensure that the plywood is in contact with the front and ends of the frame, too. If you had to cut multiple pieces of plywood, carefully position the pieces so they meet on the supports.
Next, put your cushions back in place to ensure that you can't see the plywood. If you can, you may want to trim a little bit more off of the front edge.
Sit down gently on different areas of the sofa to see how it feels. You shouldn't notice the plywood shifting under your weight. The feel should be supportive and comfortable.
You can stop here if you like, or you can improve your sofa even more by taking the following steps.
Optional Steps to Repair a Sagging Sofa
There are a few more things you can do to keep couch cushions from sagging and make your repair last longer. Some of these steps also make your old couch more comfortable!
Once you've cut your plywood and tested it, consider removing it and covering all the edges with duct tape to prevent friction between the edges of the wood and the sofa's upholstery. This will help your sofa last a bit longer.
You can add quite a bit of strength to your repair by screwing the plywood into place. This won't work on metal couch frames; the good news is that many sofa frames have wood components that you can attach the plywood to. Look for screws that are at least ¼ inch longer than your plywood is thick. If you're using ¾" plywood, for example, choose screws that are at least one inch long.
Cover the plywood layer with a sheet or blanket. If you like, you can add a bit of softness here by using a moving pad or mover's blanket. You may want to use a pair of scissors to trim this down to the same size as the plywood so that you don't have to deal with any lumps. Try to position the cut edges along the back and sides of the sofa so that the finished front edge of the pad or blanket lines up with the front of the sofa. you can screw this onto the plywood, or you can use an upholstery stapler to fasten the edges down. Duct tape works in a pinch, but might need to be reapplied.
Add more padding to the cushions. If your couch cushions have zippers, you can unzip them and replace the padding completely or add more. This is totally optional but it can add quite a bit of comfort to your sofa.
Go the extra mile by adding new slipcovers to your sofa. These are surprisingly inexpensive and they come in a variety of colors and materials. Add a couple of colorful throw pillows, and you'll feel as if you got a whole new sofa.
How Much Time Does It Take to Fix a Sagging Couch?
A sagging sofa repair is generally a super-quick DIY project that you can complete in an hour or two, once you have all the materials on hand. This project will take a little while longer to complete if you have a long sofa or a sectional, as repairs involve more measuring and cutting.
What is the Average Cost to Repair a Sagging Sofa?
Not only is this repair quick, it's pretty cheap – a whole lot cheaper than buying a new sofa! You can find good-quality plywood for around $30 per sheet. Other materials may cost more; for example, good-quality slipcover sets average $50-$100 depending on size, material, and features.
Once you're finished with this quick, easy DIY sofa repair, you'll once again be able to relax in comfort without wondering whether you're going to end up on the floor. Enjoy your "new" sofa!