If you've been searching high and low for a decent set of beginner chisels, then you've probably heard about wood carving chisels from Aldi. The Aldi Workzone chisel set might not be the best quality for fine woodworking, but it's more than adequate for someone who wants inexpensive chisels to work with while learning the ins and outs of wood carving.
Cheap Wood Chisels vs. Expensive, Professional Chisels
Chisels are an essential part of any basic woodworking tools list. While it's true that you tend to get what you pay for, it's also true that most beginning woodworkers aren't sure if they'll stick with their new hobby long enough to justify the cost of some of the best bench chisels on the market. For example, a single Lie-Nielsen western-style chisel, with its precise milling, balanced feel, and ergonomic design runs about $50. That's not for an entire set. It's the price of one chisel. This might be a drop in the bucket for an experienced woodworker, but the truth is that prices like these are out of reach of many beginners.
Mid-range chisels are quite a bit less; for example, Grizzly's Japanese-Style chisel is a very popular choice, and a bargain compared to the Lie-Nielsen at under $20 for a single chisel. Not bad, but still, an entire set is likely to represent quite an investment for someone who is just starting out.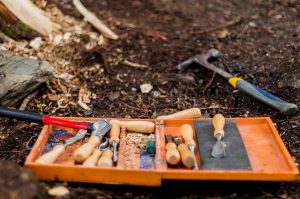 Enter the cheap Aldi chisel set. Let's clear the air from the outset: It's not perfect. Far from it, in fact. But if you're someone who is just learning the ropes, Aldi supermarket chisels are pretty hard to beat. Their attractive ash wood handles are far more durable than the plastic handles found on similarly priced products, and it's worth noting that many reviewers mention sanding and refinishing Aldi workzone chisels to create a more desirable, better-balanced feel. Other brands like Narex and Grizzly are close competitors with some similar features.
Narex vs Aldi Chisels
A few reviewers have taken the time to make a side by side comparison of Aldi vs Narex chisels to see how the two brands stack up. Both brands get good marks for usability and durability, and both brands hold an edge well.
Narex is the winner in the appearance and packaging department. The set comes in a more attractive package, which might be important if you're planning to give a set of good cheap wood chisels as a gift, but which probably doesn't matter to the average hobbyist.
Narex gets better ratings for its handle design, which is described as feeling a bit smoother than Aldi's chisel handles. As Paul Sellers has noted and so many woodworkers have done, chisel handles are very easy to improve and customize for a fantastic grip.
Narex chisels get better ratings for their metal quality and out of the box edge design, too. Even so, it's possible to put a good, sharp edge on Aldi chisels, and continue to keep those chisels sharp so they perform as needed – even though they're not made with premium Czech steel.
In the final battle between Narex vs Aldi chisels, price comes into play. And that's where Aldi delivers. A set of four Narex chisels comes in at about $40, or perhaps a bit higher depending on which size you prefer, and which handle design you like better. Aldi chisels cost less than $10. They're the clear winner for the woodworker on a budget.
Why is the Aldi Workzone chisel set so popular?
Inexpensive bench chisels aren't difficult to find. So, why is it that Aldi Workzone wood chisels are so popular? In part, it's because Paul Sellers has promoted them extensively. He has been using Aldi chisels for years, and has noted that over the course of five years, the chisels have held up very well to regular use. Not only have the edges remained straight, without any breakage or crumpling, the tangs have never bent or snapped. The wood handles have held up well for him too, never coming out of their tangs, and never splitting down the length. He does note that the ornamental steel hoops have a tendency to come loose during dry weather, but at the same time, mentions that this component is not a necessary functioning part.
Keep in mind the answer to the question "What do chisels do?" and you'll notice that for the most part, they're tasked with scraping away small bits of wood to provide a certain desirable shape. There are many specialized chisel types (which aren't part of the Aldi chisel set) but in general, a correctly sized chisel with a sharp edge and a strong handle will do the trick for basic woodworking.
Note that not everyone has shared Paul Sellers experience with Aldi wood chisels. There are multiple reports of weak metal and split handles, but most buyers agree that they're very happy with the quality particularly considering the price point and the fact that upcycling chisels can be a pretty rewarding pastime in and of itself.
Where to Buy Aldi Chisels in USA
You may be able to find Aldi chisels for sale at an Aldi store if one is available locally. You can also find Aldi chisels online, both at Aldi or Amazon, and from after-market sellers on eBay. If you're lucky enough to find a set of Aldi workzone chisels locally, expect to pay under $10 – even after sales tax has been added.
It's not always possible to shop locally for Aldi chisels. 2018 seems to be a good year so far though, with Aldi offering its famous chisel sets at different store locales beginning in September. The chisels are popular, so they tend to sell out fast.
The bottom line? If you're looking for good cheap wood chisels, you might want to check out the Aldi brand. These chisels might not be perfect, but they can be a lot of fun to use for a variety of projects.