What is the best entry level band saw? Ridgid is one brand that used to top the list. Offering a combination of reliable performance, heavy-duty construction, and affordability, it was a favorite with hobbyists and more experienced woodworkers alike. While the company itself is going strong, it discontinued its bandsaws. This article explains what happened and presents some solid alternatives.
Why Was The Ridgid Band Saw Discontinued?
The Ridgid band saw r474 has been discontinued, along with a few other Ridgid saws including the very popular BS1400 bandsaw.
After being introduced in 2001, the Ridgid Bandsaw BS1400 spent well over a decade serving woodworkers. Emerson Electric acquired Ridgid tools from TTI, though it's not clear which conglomerate discontinued the Ridgid bandsaw to make way for new products. Today, most Ridgid power tools are portable or cordless. The good news is that there are plenty of excellent alternatives to Ridgid band saws.
While it is sometimes possible to find a used Ridgid bandsaw on a site such as Craigslist or Facebook Marketplace, the search for a pre-owned band saw in good condition can be frustrating, and you probably won't enjoy the benefit of a warranty. Still, if you're on a tight budget and you can find a good used Ridgid bandsaw, go for it!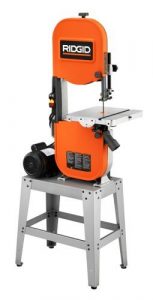 Choosing the Best Band Saw for Home Use: The Definitive Band Saw Buying Guide
It's undeniably exciting to set up your own woodshop at home, but unless you've been collecting power tools for years, the cost of creating a complete woodworking setup is likely to give you pause. On one hand, you need quality tools that are built to last. After all, you don't want to spend even more money replacing them after just a few years or even a few months. On the other hand, you want to save as much as you can, and perhaps upgrade gradually over time.
This is where many people find themselves wondering what to look for in a band saw, and asking "What is the best band saw for home use?" Our quick guide to choosing a bandsaw will help you make a decision you're happy with. Here are some main points to consider.
Cutting Capacity: Consider throat capacity as one of the most important factors when deciding on the best bandsaw for your shop. Throat capacity is defined as the distance between the bandsaw's blade and the column that supports the upper drive. This determines the maximum size of projects you'll be able to create without having to do a whole lot of finagling. Standard band saw sizes range from 10 to 24 inches. If you're planning for very small woodworking projects only, a smaller cutting capacity will be fine. Most people prefer a medium-size bandsaw with a throat capacity of 13 to 14 inches.
Height Capacity: A bandsaw's height capacity is defined as the measurement between the bottom of the upper blade guides to the top of the platform/table. This is important to consider if you are into resawing wide material or plan to work with thicker wood. 12 inches or higher is ideal.
Bevel Capacity: If you'd like to make beveled cuts, be sure that the saw you're considering has adequate bevel capacity. This feature allows the bandsaw's table to tilt. Most models will only tilt to the right, with tilt capacity at 45 degrees maximum. A few bandsaws have tables that will tilt to the left as well, but only to about 10 degrees or so, maximum. Some band saws offer higher tilt capacity, but this is a feature that can add to the machine's cost.
Dust Collection: Bandsaws have fine blades, and they produce plenty of dust. You can always clean your shop, but wouldn't you rather empty a bag? Look for a bandsaw with a dust port that supports your shop vac or dust bag. Most have 2-1/4" to 4" ports.
Floor Stand vs. Bench Top Bandsaw: If your shop has plenty of floor space, then it's the ideal setting for a floor stand band saw. Bench top bandsaws are designed to rest on top of a workbench rather than their own dedicated stands. They're ideal for smaller shops where the same space must house multiple tools.
Power: As with all other saws, the more power, the better. You'll get smoother operation and better results with higher horsepower. Floor stand bandsaws offer more power than benchtop bandsaws. While most benchtops are perfectly capable of holding their own on smaller projects, large, heavy work calls for a floor standing band saw. Most floor stand band saws are equipped with motors rated at 1.0 HP or better. Some offer more power, around 1.5 HP to 2.0 HP. Choose the most powerful bandsaw you can afford if you're planning to cut metal. Higher-powered saws make it easier to deal with wide material and hardwood stock, as well.
Blade Tension Indicator: Is there a blade tension indicator on the bandsaw you're considering? This is on the list of "nice to have" things, as it helps you set the correct tension and prevent problems like premature blade wear caused by too-tight tension, and blades deflecting off track when tension is too loose.
Wheels: A band saw's wheels provide inertia, which transfers to the blade and helps maintain speed and consistency during cutting. The heavier the saw's wheels, the better. Band saws equipped with cast iron wheels are more powerful than those fitted with aluminum wheels.
Replacement Blade: As you're shopping, check to see if it's easy to find bandsaw replacement blades for the models(s) on your shortlist. Most companies do a good job here, but it's a consideration worth double-checking before committing to a specific model.
Price: In general, the larger and more powerful the bandsaw, the more it will cost. Expect to budget around $1,000 for a good 14-inch band saw, or $200-$300 for a nice bench top model. It's a good idea to spend a little time investigating anything that seems to be priced well below average as some deals are just too good to be true.
Alternatives To Discontinued Ridgid Band Saws
As promised, here is a quick list of popular alternatives to Ridgid Bandsaws. Most are 14-inch floor stand models, but we've included a couple of benchtop bandsaws as well.
Grizzly G0555LX Deluxe Bandsaw
Grizzly B0513ANV 2 HP Bandsaw, Anniversary Edition, 17-inch
JET JWBS-14DXPRO 14-inch Deluxe Pro Band Saw Kit
Laguna Tools MBAND1412-175 14×12 Bandsaw
RIKON Power Tools 10-324 14" Open Stand Band Saw
RIKON 10-305 Bandsaw with Fence, 10-Inch
SKIL 3386-01 2.4-Amp 9-Inch Band Saw
WEN 3962 2-Speed Band Saw with Stand and Worklight, 10-inch